---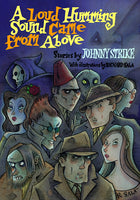 A Loud Humming Sound Came From Above by Johnny Strike
Rudos and Rubes
"The fast-paced, gonzo stories exhibit the forthright bluntness of a Spillaine or Cain, the creepy involutedness of a Lovecraft or C.A. Smith, and sometimes the quirky skewed perceptions of a H.S. Keeler. I suppose you might dub them "postmodern," but they possess none of the winking irony or distancing of that mode.... These stories affirm the potency of pure storytelling."
- Paul Di Filippo,
Asimov's Science Fiction
"I practically guarantee that you will like this book."
- Thera Webb, MaximumRocknRoll 
A Loud Humming Sound Came From Above
is a collection of twelve stories by Johnny Strike, six of them never before published. All of them feature the genre-bending, hallucinatory style that distinguished his novel,
Ports of Hell
(Headpress/Diagonal), of which William Burroughs said, "These are real maps of real places. That is what marks the artist, he has been there and brought it back."
Johnny Strike is a lifelong inhabitant of the underworld. Evading prosecution for parole violation as a teenager in Pennsylvania, he moved to San Francisco and eventually cofounded the legendary punk band Crime.
Among A Loud Humming Sound Came From Above's settings are a hellish prison workshop, a profiteering methadone clinic and a hotel where the suicidal find a terrible reason to live; among the characters are the unlucky, the sociopathic, the absurdly delusional and those who see reality with crippling clarity. It features twelve interior illustrations and a full color cover by Richard Sala, creator of such graphic novels as Evil Eye.
REVIEWS OF JOHNNY STRIKE'S PORTS OF HELL:
"I sometimes despair of finding good new writers, then along comes someone like Johnny Strike."
- Geoff Nicholson, Ambit
"In the tradition of the finest of pulp writers, Johnny Strike (founding member of SF's notorious punk band, Crime) spins out a yarn that explores a dreamlike world inhabited by uber-criminals and agents of control. Borrowing from genres as diverse as sci-fi, crime fiction and horror, he delivers an allegory that, all at once, operates as satire and expose of the darker side of modern life."
- Peter Maravelis, City Lights Bookstore Recommended List
"A weird, trashy and wonderful journey. This is a must-read for any fans of out there cult fiction . . . . The nearest comparison would have to be the Burroughs of Naked Lunch, but various other disparate elements are woven together recalling variously the writings of Philip K. Dick, Michael Moorcock, Edgar Allan Poe and Raymond Chandler, sometimes within the space of one page."
- Artrocker